THANK YOU FOR VISITING GLOVEREPAIR.COM!

Laces getting old, cracking and breaking apart? We can relace it for you at the lowest glove relacing prices on the internet guaranteed. We also guarantee our work with a 1 year warranty.

We have a variety of 14 different colors of glove lace to choose from. We can relace your glove in any of these colors or you can purchase these laces in our store. Laces are available in Tan, Black, Red, Blue, Chocolate/Brown, White, Dark Green, Kelly Green, Light Gold, Maroon, Orange, Pink, Purple and Silver/Gray. Click here to view the different colors.


GLOVE RELACING AND REPAIR SHOP
Receive free conditioning on all glove relacing packages. We also offer thumb and pinky loop replacement, as well as an additional padding option. View our glove repair price list and order form below to get started.


Its been over 10 years since GloveRepair.com was started and the response we've received has been tremendous. Customers from all over the country have sent us their gloves. As we continue to grow, we will strive for improvements to make our customers happy, with Quality, Service and Value.

Over the years we have repaired just about every brand of glove out there, from Rawlings Glove Repair to Mizuno, Glovesmith, Nokona, Worth, Easton, Louisville Slugger, Nike, Akadema and many more.

Don't just take our word for it, read actual responses from our customers and some of the work we've done on our Before/After page.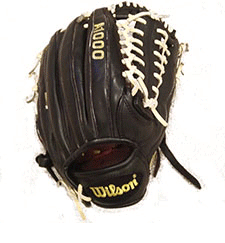 Baseball Glove Relace and Glove Repair Testimonials...
"I wanted to take a moment and thank you for the prompt service & the excellent quality of the Omaha infield glove you just did for us. As a high school varsity coach, I appreciate quality gloves & glove repair; After reviewing this repair job you did, I can assure you that you will have my baseball programs glove repair from this point forward. Thank you again Rick for the quality service & repair....
Raymond B. in Oregon
"I can't remember being this happy sliding a glove onto my hand since I bought this one brand new in 1962. That old expression, "They don't make 'em like they used to" is very appropriate in this situation. Having tried on several expensive gloves last season to replace this one when the laces broke,,,, nothing looked or felt like my old '62 Roger Maris.

Now, thanks to you, it once again looks terrific and feels as good as it ever has. Thank you for bringing back a piece of my childhood. Feel free to use my name and photos of my glove if you like. I am a believer in you and your service and will recommend you to all my friends. (There are a lot of us baby-boomers out there holding onto our old gloves)." ...Edward L. in New Jersey